When we started a little (crown moulding, new upholstered bargain chairs, plantation shutters ~ see previous posts) re-do in the living room and dining room back in October,
one thing led to another.
Isn't that the way it always goes? I started by taking down the matching drapes in the living and dining rooms. I decided to have shutters put up at the living room window and considered using shutters in the dining room also, but really wanted a softer look and enjoy the open window. After considering making new drapes, I went fabric shopping and found a few options I really liked. Then, when shopping with a Sister Chick, I found these ready-made panels and fell in love with them. When all was said and done, I came out with something less expensive than I would have if I made them myself - AND!!!!! a whole lot easier, and ~
So, here is a boring picture of the naked window.
My Sweet Handy Dandy Hubby had knee surgery nearly two weeks ago and his days of climbing ladders and doing honey-do projects are on hold for the time being. But, patience isn't one of my virtues and thinking I need to start learning to do a few "handy" things myself (which I have never done - he always is ready and willing to do it for me) I began the install.
He gathered the tools I would need.
Girls, I learned to change a bit in this
I was also instructed by the supervisor
to measure, mark and re-measure.
I followed those instructions to a capital T.
Here they are up and looking so pretty.
So far, they haven't fallen.
KEEP your fingers crossed!!!
You must know by now that I like
and use it through out my house.
I have several textures and patterns of reds and gold.
I need to have a dinner party,
since she's all dressed up.
The rooms seem to flow better now.
Gotta think up another project!
I think I survive on projects!
I'm linking to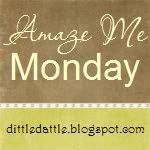 I'm linking to: